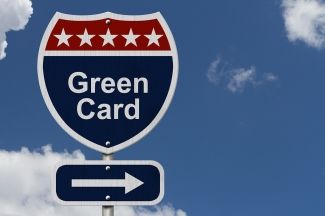 Obtaining a green card is an exciting event for immigrants to the U.S. A green card, or permanent resident card, grants its holder the authorization to live and work within the U.S. Many green card holders choose to apply for U.S. citizenship when these documents expire. If you're thinking of consulting animmigration lawyer and applying for an investment visa, you may wish to learn a little bit about the history of the green card.
Early Registration of Immigrants
In 1940, the Alien Registration Act was passed. This required all non-citizen residents of the U.S. to register with the federal government via their local post office. These registrations were then sent on to Immigration and Naturalization Services, which sent non-citizens Alien Registration Receipt cards. The green card did not appear until a decade later, when the Internal Security Act of 1950 was passed. This law required all individuals with Alien Registration Receipt cards to obtain the green Form I-151, which is why the term "green card" became popular.
Design Changes to the Green Card
Throughout the 1950s and beyond, the U.S. became an increasingly popular destination for prospective immigrants. This in turn gave rise to an increase in counterfeit green cards, which is why the INS began redesigning the cards. In fact, between 1952 and 1977, the design of the green card was changed 17 times. Sometimes, the color was altered, enabling officials to identify at a glance whether a card was new or expired. Until 1977, the actual document was a mere piece of paper. That year, the INS began producing the green cards at a centralized Immigration Card Facility and converted these documents into identification cards much like driver's licenses.
New Security Features of the Green Card
In 2010, individuals who obtained a green card through investment in Phoenix noticed that the documents had once again become green. This latest version of the green card also boasts some impressive new security features to prevent counterfeiting. For example, it features miniature faces of presidents and color-shifting ink.