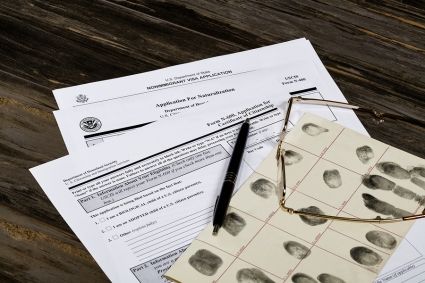 One of the many benefits of obtainingUnited States citizenship is that it enables you to facilitate your family members' entry into the U.S. On the basis of your relationship with your family members, they may be eligible to obtain a fiancée visa, nonimmigrant visa, or green card, also known as permanent residency. To get started on this process, you can retain the services of an immigration lawyer.
Identifying Eligible Relatives
You can apply for a green card on behalf of your spouse and children, in addition to your parents and siblings provided you are at least 21 years old. You can apply for a fiancée visa for your fiancée who is living outside the U.S., along with his or her children under the age of 21. Your immigration lawyer can also help you apply for a nonimmigrant visa on behalf of your spouse or children of your spouse, provided they are unmarried and under the age of 21.
Filling Out the Application
You can begin the U.S. immigration process for your family members by filling out Form I-130, Petition for Alien Relative. You will need to fill out a separate form for each relative whom you plan to sponsor. You must also attach certain documents to each application. Unless otherwise noted, attach only photocopies of the documents, not the originals. First, you'll need to prove that you're a U.S. citizen by attaching documentation such as a copy of your birth certificate, naturalization certificate, or valid U.S. passport. If you are a lawful permanent resident, you must attach a copy of the front and back of your permanent resident card. You must also attach sufficient documentation to prove the relationship between yourself and your relative. Some examples include a copy of your marriage certificate, lease that demonstrates joint tenancy, documentation of co-mingling financial resources, birth certificates of shared children, and similar paperwork. Your immigration lawyer can help you determine which documentation you must include, depending on your particular situation.
Submitting the Application
Once you submit the application, the relative whom you are sponsoring will receive a place in a line of individuals who are waiting to immigrate to the U.S. This means that it is advantageous for your relative for you to file the application as quickly as possible. However, you must ensure the application package is accurate and complete, or you'll risk rejection.