Nationals of qualifying countries may apply for an E1 Visa in order to develop and direct import/export trade of goods or services between their own country and the United States. Individuals may also apply for E1 Visas for key managerial and specialists positions within the US. Have a look at these application requirements and then contact an immigration lawyer in Phoenix to start your E1 Visa application.
Introduction Letter
A cover letter describing the enterprise and the beneficiary will need to be attached to all E1 Visa applications. This letter should address all the requirements for E1 eligibility, including that the requisite treaty exists, that the individual possess the nationality of the treaty country, and that the trade is principally between the U.S. and the treaty country.
Applicant Information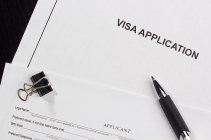 You will also need to submit a color photocopy of the bio data page of your passport and similar copies of any visas, entry/exit stamps, and I-94s. A copy of any changes or extensions of status granted by USCIS and a resume or curriculum vitae of the principal applicant are also required.
Ownership Documents
If you own a copy and wish to trade with the United States, you will need to submit Articles of Incorporation or Organization for U.S. business. Share certificates and/or operating agreement will verify ownership. If the chain of ownership includes intermediary entities, an organogram of the full ownership structure and legal evidence of ownership within that chain are also required with your E1 Visa application.
Form G-28
If you will be represented in this matter by an immigration attorney, you must submit Form G-28 (Notice of Entry of Appearance of Attorney as Representative) and should include contact e-mail address and phone number for your attorney. Your immigration lawyer in Phoenix can help you submit all the requisite forms and documentation needed to complete your E1 Visa application.